Featured Couple - Conrad and Marina
Congratulations to Conrad and Marina for finding one another and proving that true love is really possible if you want it bad enough. Even if that means travelling to find it.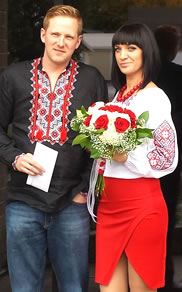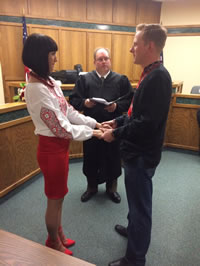 They write:
My wife Marina and I are very happy. We thank this site for helping Marina and I find each other. It was an amazing correspondence first and then we met for the first time in Poltava. We understood that we loved each other from the first meeting. It was wonderful communciation on long distance and thanks to this site Marina went to America with fiancee visa.

We were married on October 14th and we are very happy and very much in love. It has been a very fun journey.

Thank you again.

Conrad and Marina

---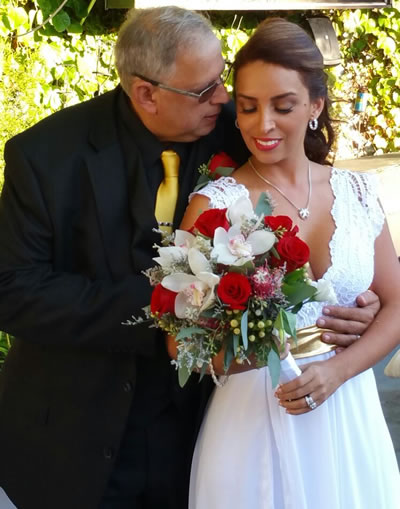 Here is another wonderful wedding photo of a couple, Jim and Catalina, who met during one of AFA's Medellin, Colombia tours. We couldn't be happy for both Jim and Catalina two extremely nice people who found each other and are now forging a new life together.

Congratulations!
---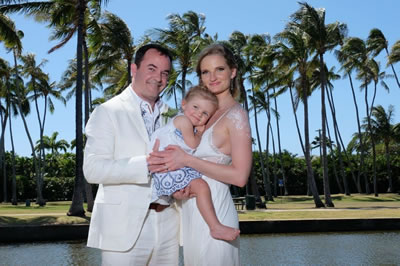 We are also proud to share news of another wedding between two of our members. Congratulations to Michael and Yulia, who met in Kiev Ukraine, were married, and are now very happy together.
Michael and Yulia are another in a long list of AFA members married and happy, and that makes us very happy ourselves.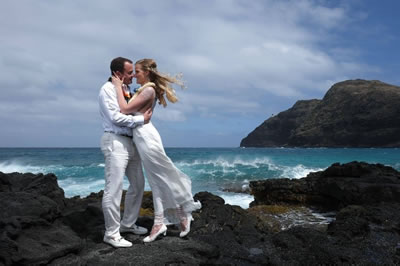 ---
We are happy to share with you the wedding between two of our members, Kjetil and Larisa. We want to wish both of them nothing but joy and happiness and a long and loving life together. Kjetil chose to work with one of our senior Personal Consultants, Tanya, via the Executive program. Tanya worked closely with Kjetil throughout the entire process, as you can see the results speak for themselves. If you would like more information about the program feel free to contact us at (602) 553-8178 ext. 203.
PROBLEM:
You must
have Adobe Flash Player installed
and allow ActiveX for this video to play.
You may use the link above to quickly and instantly install the flash player for FREE! (recommended)
Apartments for Rent
Russian Apartments for Rent Colombian Apartments for Rent
Ukraine Apartments for Rent
Filipina Brides Online

7320 N Dreamy Draw Drive
Phoenix, Arizona 85020
(602) 553-8178
fax (602) 468-1119

Contact Us



THIS PROGRAM IS THE SOLE PROPERTY OF FILIPINA BRIDES ONLINE AND MAY NOT BE COPIED IN ANY WAY OR FORM WITHOUT EXPRESS PERMISSION FROM FILIPINA BRIDES ONLINE.

© COPYRIGHT 1996-2017 - ALL RIGHTS RESERVED.
Meet 500 to 2000 beautiful Filipina women during our Romance tours to the Philippines, China and Thailand.
Find the Asian Woman of your dreams. We specialize in finding that perfect Asian woman for you! Unlike other sites, all single Philippine Women, China Women and Thai Women on our service personally come in and fill out an application and are interviewed by our staff. You can be assured all Asian women listed are real. We update our datingsite daily removing women that are no longer available.
200+ NEW - REAL Beautiful Asian Women Added Every Wednesday More NEW Women >>